Washington STEM, Washington State Department of Labor and Industries (L&I) and AJAC gave a joint presentation on all-things Youth Apprenticeship during a live webinar on June 26, 2017. Josie Bryan and Jody Robbins from L&I gave a comprehensive background on the apprenticeship system including how youth fit into the equation and the standards with which they are governed by.
AJAC's Deputy Director, Shannon Matson spoke in length about AJAC's Production Technician program which kicked off in January 2017 in the Tacoma Public School District. Shannon included the importance of identifying an occupation, how to engage employers, creating a committee and the balance between structured on-the-job training and college-level classroom instruction. A special thanks to Gilda Wheeler of Washington STEM for allowing AJAC to talk about our Youth Apprenticeship program!
View the PowerPoint here.
In partnership with the Office of the Governor, the Workforce Board, WSU Extension, and the Office of the Superintendent of Public Instruction, Washington STEM traveled across the state to explore Career Connected Learning. Business, community, and education leaders are collaborating throughout the state to create pathways and opportunities for students through a continuum of real-world, workplace experiences.
A special thanks to Washington STEM for giving AJAC an opportunity to highlight our state's first Youth Apprenticeship program! Programs like these are made possible because like-minded organizations come together and create a sustainable pipeline of talent for the next generation!
Yakima's West Valley High School was given the baton last week to launch their first AJAC Youth Apprenticeship program. High school juniors Trevor Mackey, Osborne Rogers, and Bradley Ethier individually interviewed with three local aerospace and advanced manufacturing companies in Yakima, all of whom, received an offer letter to begin their structured on-the-job training this summer. UPDATE: View AJAC's Youth Apprentice Signing Day video here. 
Yakima's first youth apprentices (from left to right), Bradley Ethier, Osborne Rogers and Trevor Mackey
Yakima's Youth Apprenticeship Signing Day was the official send off and celebration to commemorate the partnership, dedication, and foresight West Valley School District has instilled amongst its students for career-connected learning. All three youth apprentices have identified hands-on learning as a focal point for their future careers in machining, fabrication and engineering.
"This can jump-start a career in manufacturing because you will learn how to do everything you have an interest in."
Osborne Rogers, a junior at West Valley High School was eager to become one of Yakima's first youth apprentices, "When I first heard about the program, it sounded like a really good idea, and once you know more about it, you realize it is a once in a lifetime opportunity." Rogers, who was hired by Triumph Actuation Systems looks forward to the structured mentorship at his new job while learning in the classroom at West Valley High School; "This can jump-start a career in manufacturing because you will learn how to do everything you have an interest in." Attracting young talent to the aerospace and advanced manufacturing industries is a persistent problem very few have found a solution for.
Yakima's youth apprentices prepare to sign their agreement between their employers, AJAC, West Valley High School, and the Washington State Governor's Office
According to the Manufacturing Institute, "nearly three and a half million manufacturing jobs likely need to be filled and the skills gap is expected to result in 2 million of those jobs going unfilled." For local-area employers, a pipeline of talent from high school into the industry has been rare with many students choosing four-year colleges as their next step. Triumph Actuation Systems' First Shift Supervisor, Zach Chouinard, is optimistic about the hands-on learning his city has implemented; "We believe it helps the community and helps these young guys get a head start. We get new trainees who already have a taste of the machine shop atmosphere…it's the start of something good."
High school students have a new pathway to consider when planning for their future careers. Registered apprenticeship is the original four-year degree: furthermore Youth Apprenticeship, can become high schools' new version of Running Start for the trades! Over the next few years, AJAC and Washington State's Governor's Office will continue to grow youth apprenticeship in aerospace manufacturing to better serve our community's needs for high-skilled, high-demand jobs.
On Monday, April 24, Grays Harbor Youth Works, Greater Grays Harbor, Inc., Aerospace Joint Apprenticeship Committee, and Grays Harbor College worked together to provide North Beach and Lake Quinault High School students with participating in a Career Pathway Day.
Grays Harbor Youth Works mission is to engage and transform Grays Harbor Youth through internships with businesses, nonprofits, and public sector organizations, throughout the county, and encourage them to pursue post-secondary and livable wage jobs. Since 2013, they have placed 100 students with internships county-wide. Seventy percent of those students were seniors where 60% did choose post-secondary education. Thirty of these interns were juniors where six returned in their senior year to repeat the experience; Rachel Wiechelman was one of those who returned. Rachel attended Aberdeen High School and was assigned to Domestic Violence Center of Grays Harbor. As a senior, she was assigned to Department of Public Health and Human Services. Rachel said, "Both experiences inspired me to follow a career in Health Education." Today she is attending Grays Harbor College and has a place on Grays Harbor Youth Works Board.
The Career Pathway Day will begin at Grays Harbor College with two speakers Julie Skokan, TRIO Programs that is heavily involved in Science, Technology, Engineering, and Math (STEM); and Matt Holder from the IT Department. Both will talk about today's industry, what types of jobs are available in each area, and what it takes to acquire those positions. The students will go to their assigned buses to companies they selected for their career pathway. The participating companies are Grays Harbor PUD, Sierra Pacific, Grays Harbor Community Hospital, Grays Harbor Historical Seaport Authority, and Hesco Armor, LLC. These companies will provide the students with promotional materials about their organization, historical perspective, types of positions in their company, what they look for in skills, experience, and education. They will then provide a tour of the facility and make time for questions. The students will return to Grays Harbor College for lunch and wrap-up before heading back to school.
Read the official Grays Harbor Youth Works Press Release here.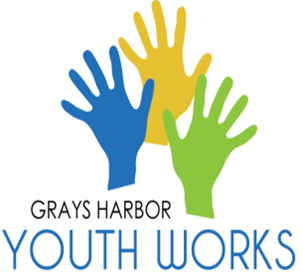 All eyes were on Pacific Machine last week as the city of Tacoma ushered in a new era of career-connected learning. The decade-old mindset of 'every student should attend a four-year college' was stopped in its tracks during the official kickoff of Youth Apprentice Signing Day for the Aerospace Joint Apprenticeship Committee's (AJAC) Production Technician program.
Raquel Taijito, Seth Hamilton and Aleksandr Gergalo are all smiles after signing their Youth Apprenticeship Agreements. 
Youth Apprentice Signing Day was more than a signature on the dotted line. It symbolized partnerships between local and post-secondary institutions, government leaders, and AJAC of whom developed a pipeline of talent into the aerospace and advanced manufacturing industries. Parents and families were relieved their children will have a steady job throughout high school, paying on average $28,000 and fast-tracking their career at an unprecedented age.
Over the last year, AJAC, Bates Technical College, Tacoma Public Schools, Washington State Department of Labor & Industries, and the Governor's Office have worked endlessly to implement our state's first youth apprenticeship program for high school students interested in the trades. The end result is a 2,000 hour paid Production Technician program which encompasses 15 tuition-free college credits, two high school credits, an OSHA-10 certification, and limitless mentorship from industry professionals.
Nearly all 14 youth, granted it was their spring break, were on-hand to sign their apprenticeship agreements with their employers and Washington State Governor Jay Inslee.
Prior to the signing agreement, four speakers including Pacific Machine's owner, Jim Tschimperle, current AJAC machining apprentice Travis Foster, AJAC Executive Director Lynn Strickland, and Program Manager of L&I Jody Robbins, each discussed their organization's contribution to youth apprenticeship.
Governor Jay Inslee delivered the keynote speech to over 130 guests which emphasizing the key strategy Washington State has to grow youth employment and other career opportunities for all students. "This is the gold standard, because there is no better way to give a student a vision statement of their future than to get them into an apprenticeship…it's the gold standard because we know we have thousands of jobs we need to fill in advanced manufacturing because our state is leading the world [in advanced manufacturing]," Governor Inslee said in his opening remarks.
Washington State Governor Jay Inslee delivering his keynote address to the audience at Pacific Machine in Lakewood, Washington. 
Too often we hear about the lack of opportunities for youth employment in our community.  This is contributing to the 'decade drift' as young adults struggle to find a meaningful career path well into their early thirties.  Delayed entry into the labor market comes with serious repercussions for Washington's youth including the decline of individual income, lifetime earning potential, and long-term employability for a generation of workers.
Coinciding with the 'decade drift' is the role education plays in developing the next generation of workers. Currently, after you receive an education, then you find employment. Apprenticeships, particularly AJAC's model, is comprehensive. AJAC requires apprentices to find employment first, then simultaneously receive their on-the-job training and college-level classroom instruction. The self-confidence of AJAC's youth apprentices earned the trust of the employers, with minimal previous work experience.
John Page, CTE Director of Tacoma Public Schools provides his closing remarks.
John Page, CTE Director of the Tacoma Public Schools closed the signing day ceremony with a few words that touched home, "You don't sign on for a placement. A placement would be an internship. Apprenticeship, you have to have the grit, the self-confidence, and level of skills to convince a potential employer to invest in you." This sentiment extends beyond the workplace and calls on the families, parents, the apprenticeship community and our local educational institutions to sustain these programs for future generations to come. Youth apprenticeship will provide a greater opportunity for student retention by demonstrating the relevance of school-based learning and real world application.
View photos from the event on AJAC's Flickr page.