Family based. Good pay. Good benefits. Those were the three takeaways from students who toured Buyken Metal Products last Thursday as part of a nationwide celebration of manufacturing.
Manufacturing Day—occurring the first Friday of October—is meant to inspire the next generation of manufacturers and create a dialogue about why manufacturing is in a better place than ever before.
Buyken Metal Products, an 80 year-old CNC, metal fabrication, and engineering shop, opened their doors on Thursday, October 4th to showcase, highlight and inform the Manufacturing Academy students about their company and what separates them from other manufacturers.
The Manufacturing Academy, sponsored by the Aerospace Joint Apprenticeship Committee (AJAC) offers a solid foundational career pathway into aerospace and advanced manufacturing apprenticeship opportunities. Upon completion, students will have the basic foundational skills to find gainful entry-level employment and may meet the minimum qualifications to pursue additional career pathways in advanced manufacturing through AJAC's portfolio of apprenticeship programs.
"Buyken is continually advancing our technology and streamlining operations. We offer everything from general stamping and brake press operators to laser, punch and CNC operators and programmers," said Laura Hawk, Buyken's Operations Manager. "We are always open to looking for new people to add to our family to help make us better while we grow our business."
14 students from the Manufacturing Academy class received presentations from Buyken about the history of their company, the various positions on the shop floor, and what they look for in future employees. Buyken, a partner in apprenticeship training, offers each employee opportunities to continue their professional development, whether it's through apprenticeship classes or short-term training programs.
"The CEO was very inspiring and clearly has a great vision for the growth of the company," said Daniel Cho, a 23 year-old Manufacturing Academy student from Kent, Washington. "He encourages cross training, education, and hands-on learning which is very good to see. The company seems like it really takes care of its 'family'."
Manufacturing Day is more than opening doors to the public, its focus is knocking down stereotypes about the industry that have plagued it for decades. For people who have never stepped inside a manufacturing facility before, there are preconceived ideas of what it may be like to work in the industry. For the students, it was nothing short of an irreplaceable experience.
"We hope students' take away was a clearer sense of the processes, machines, responsibilities and opportunities in the manufacturing environment," Hawk told the students.
"Buyken appreciates participating in the Manufacturing Day yearly to foster new interest in the manufacturing trades and give students a first-hand view of what they can expect in the metal fabrication workplace."
For Cho, who has eight weeks left of his Manufacturing Academy class, hopes new pathways, such as those highlighted at Buyken, will bring a newfound interest to the trades, "I am excited for what the future holds for me in this class and my possible endeavors."
You can learn more about AJAC's registered apprenticeship preparation program at www.ManufacturingAcademy.org. AJAC is an industry-driven apprenticeship organization, founded on the belief that mastery occurs on the job. Through pre-apprenticeship, youth apprenticeship and adult apprenticeship, all people have the opportunity to earn competitive wages, find meaningful and fulfilling work, and pursue lifelong learning. AJAC currently serves over 350 apprentices and 250 employers across eight high-demand occupations.
Yakima's West Valley High School was given the baton last week to launch their first AJAC Youth Apprenticeship program. High school juniors Trevor Mackey, Osborne Rogers, and Bradley Ethier individually interviewed with three local aerospace and advanced manufacturing companies in Yakima, all of whom, received an offer letter to begin their structured on-the-job training this summer. UPDATE: View AJAC's Youth Apprentice Signing Day video here. 
Yakima's first youth apprentices (from left to right), Bradley Ethier, Osborne Rogers and Trevor Mackey
Yakima's Youth Apprenticeship Signing Day was the official send off and celebration to commemorate the partnership, dedication, and foresight West Valley School District has instilled amongst its students for career-connected learning. All three youth apprentices have identified hands-on learning as a focal point for their future careers in machining, fabrication and engineering.
"This can jump-start a career in manufacturing because you will learn how to do everything you have an interest in."
Osborne Rogers, a junior at West Valley High School was eager to become one of Yakima's first youth apprentices, "When I first heard about the program, it sounded like a really good idea, and once you know more about it, you realize it is a once in a lifetime opportunity." Rogers, who was hired by Triumph Actuation Systems looks forward to the structured mentorship at his new job while learning in the classroom at West Valley High School; "This can jump-start a career in manufacturing because you will learn how to do everything you have an interest in." Attracting young talent to the aerospace and advanced manufacturing industries is a persistent problem very few have found a solution for.
Yakima's youth apprentices prepare to sign their agreement between their employers, AJAC, West Valley High School, and the Washington State Governor's Office
According to the Manufacturing Institute, "nearly three and a half million manufacturing jobs likely need to be filled and the skills gap is expected to result in 2 million of those jobs going unfilled." For local-area employers, a pipeline of talent from high school into the industry has been rare with many students choosing four-year colleges as their next step. Triumph Actuation Systems' First Shift Supervisor, Zach Chouinard, is optimistic about the hands-on learning his city has implemented; "We believe it helps the community and helps these young guys get a head start. We get new trainees who already have a taste of the machine shop atmosphere…it's the start of something good."
High school students have a new pathway to consider when planning for their future careers. Registered apprenticeship is the original four-year degree: furthermore Youth Apprenticeship, can become high schools' new version of Running Start for the trades! Over the next few years, AJAC and Washington State's Governor's Office will continue to grow youth apprenticeship in aerospace manufacturing to better serve our community's needs for high-skilled, high-demand jobs.
On Monday, April 24, Grays Harbor Youth Works, Greater Grays Harbor, Inc., Aerospace Joint Apprenticeship Committee, and Grays Harbor College worked together to provide North Beach and Lake Quinault High School students with participating in a Career Pathway Day.
Grays Harbor Youth Works mission is to engage and transform Grays Harbor Youth through internships with businesses, nonprofits, and public sector organizations, throughout the county, and encourage them to pursue post-secondary and livable wage jobs. Since 2013, they have placed 100 students with internships county-wide. Seventy percent of those students were seniors where 60% did choose post-secondary education. Thirty of these interns were juniors where six returned in their senior year to repeat the experience; Rachel Wiechelman was one of those who returned. Rachel attended Aberdeen High School and was assigned to Domestic Violence Center of Grays Harbor. As a senior, she was assigned to Department of Public Health and Human Services. Rachel said, "Both experiences inspired me to follow a career in Health Education." Today she is attending Grays Harbor College and has a place on Grays Harbor Youth Works Board.
The Career Pathway Day will begin at Grays Harbor College with two speakers Julie Skokan, TRIO Programs that is heavily involved in Science, Technology, Engineering, and Math (STEM); and Matt Holder from the IT Department. Both will talk about today's industry, what types of jobs are available in each area, and what it takes to acquire those positions. The students will go to their assigned buses to companies they selected for their career pathway. The participating companies are Grays Harbor PUD, Sierra Pacific, Grays Harbor Community Hospital, Grays Harbor Historical Seaport Authority, and Hesco Armor, LLC. These companies will provide the students with promotional materials about their organization, historical perspective, types of positions in their company, what they look for in skills, experience, and education. They will then provide a tour of the facility and make time for questions. The students will return to Grays Harbor College for lunch and wrap-up before heading back to school.
Read the official Grays Harbor Youth Works Press Release here.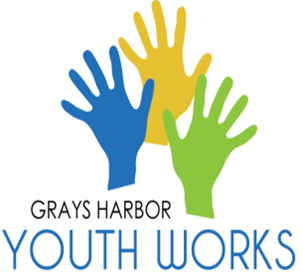 From left to right: John Page from Tacoma Public School, Kristi Grassman, AJAC, Lynn Strickland, AJAC, Jesse Cote from IAM 751 and Sandra Husbands, L&I at the Washington Apprenticeship Training Council meeting on January 12, 2017.
Seattle, WA: The Washington State Apprenticeship Training Council approved the state's first Youth Apprenticeship program for the local aerospace and advanced manufacturing industries. This program will provide high school students with an opportunity to earn tuition-free college credit, high school credit for graduation completion, 2,000 hours of paid on-the-job training and mentorship from industry professionals.
Youth Apprenticeship Washington is a collaborative effort between the Aerospace Joint Apprenticeship Committee (AJAC), Washington State Department of Labor and Industries, Governor Jay Inslee, Bates Technical College and the Tacoma Public Schools. Youth Apprenticeship Washington is "a direct bridge from high school into industry and it provides a diverse pipeline of applicants. Youth apprenticeship in Washington holds the promise of employing thousands of high school students across numerous high demand industries over the next several years." said Lynn Strickland, AJAC's Executive Director. With the nearly 3.5 million job openings in the next ten years for manufacturing, the industry is facing a shortfall of skilled labor, particularly from young adults.
"We're focusing on creating more opportunities to connect young people with great careers," said Governor Jay Inslee, during the 2016 Youth Apprenticeship Summit. He added, "We know that a four-year track is not the only way to succeed in our state. And for too long, we have been creating this implicit tacit message to our youth." Apprentices on average earn $300,000 more in their lifetime compared to non-completers and in Washington, manufacturers earn over $87,000 a year with zero college debt.
Youth apprenticeship in Washington holds the promise of employing thousands of high school students across numerous high demand industries over the next several years. – Lynn Strickland, Executive Director, AJAC
AJAC's Youth Apprenticeship program works directly with local-area employers who current partner with AJAC for adult apprenticeship. These employers have expressed that high school students, particularly those already in career and technical education programs make good candidates for entry-level employment when coupled with an apprenticeship model of post-secondary education.
KBTC's "Northwest Now" will feature a panel discussion on Youth Apprenticeship Washington on Friday, January 27th at 7:30 p.m. The panel will feature AJAC's Executive Director, Lynn Strickland, Labor and Industries Liz Smith, John Altman from the Governor's Office and Ron Langrel, President of Bates Technical College.
Download the press release here. 
Watch AJAC's appearance on KBTC's "Northwest Now" Featuring Youth Apprenticeship
(From left to right) Governor Jay Inslee, Lynn Strickland and Jesse Milbrath
Over the last two years, the Aerospace Joint Apprenticeship Committee, Washington State Department of Labor and Industries, the Tacoma School District and Bates Technical College have worked on a comprehensive plan to launch youth apprenticeship programs in Washington State for high-demand, high-growth industries. For manufacturing, nearly 3.5 million jobs will need to be filled due to the skills gap, an aging workforce and new technologies requiring more talent in new fields of study.
Youth Apprenticeships will develop young adults to be more productive, lifelong learners, and more importantly, provide them with an opportunity to succeed in a global economy.
On November 1, 2016, Washington State Governor Jay Inslee announced at the first-annual Governor's Youth Apprenticeship Summit that Washington will become one of the few states in the country to offer registered apprenticeship programs for high school students and young adults. The summit's purpose was to advance the Governor's work based learning initiatives for youth and provide a comprehensive approach to understanding how youth apprenticeships will increase graduation rates, replace the aging workforce and prepare the next generation of skilled workers.
Governor Jay Inslee, Bates Technical College President Ron Langrell and Tacoma Mayor Marilyn Strickland all echoed the same sentiment – we need to create more opportunities to connect young people with great careers for industries that include aerospace, manufacturing, IT, the building trades and many more.
Ron Langrell, President, Bates Technical College
To make these programs as robust as possible, four speakers from South Carolina, Kentucky, Oregon and Wisconsin each shared how their states developed and implemented youth apprenticeship programs, including best practices and road blocks faced along the way. Developing these types of programs can be tricky, as many presenters alluded too. Nevertheless, the return-on-investment for each state was impressive. For example, South Carolina now has 22 times the amount of apprentices than when they first started, and have nine times the amount of programs. "Youth apprenticeship program combines industry driven curriculum with high school credits, and career and tech training with critical on-the-job training preformed at local businesses," said Brian Rauschenbach, Youth Apprenticeship Consultant for South Carolina Technical College System. "Students can earn a paycheck through part time work while earning a state recognized license in many high demand occupations. Youth registered apprenticeship works to build a solid workforce pipeline for the future," he added.
(From Left to Right) John Lukas, Brian Rauschenbach, Gabby Nunley, and Mary Taylor
Kentucky, like many states, are experiencing a shortfall of skilled labor and less-educated individuals entering the workforce, "by 2018, 90% of the fastest growing jobs will require more than a high school education and 31% of small business owners and 41% of manufacturers will be unable to fill jobs," said Mary Taylor, Industry Training and Development Specialist for the Kentucky Department of Education. Wisconsin on the other hand, is at a 10 year enrollment high in 2016, with over 3,000 students served. According to John Lukas, Vice President of LDI Industries, "At least 75% of youth apprentices enrolled in the program are expected to graduate and get their state certifications. 8% females and 11% minority enrollment for manufacturing.
Lynn Strickland, Executive Director, AJAC
The Governor's Youth Apprenticeship Summit underscores the viability of a state-wide youth apprenticeship framework. The opportunity for high school students to complete their diploma, earn tuition-free college credits and develop job-ready skills through paid on-the-job training and mentorship cannot be passed up. Youth Apprenticeships will develop young adults to be more productive, lifelong learners, and more importantly, provide them with an opportunity to succeed in a global economy.
Relive the Governor's Youth Apprenticeship summit on AJAC's Flickr page.
Video of Governor Jay Inslee's remarks during the Governor's Youth Apprenticeship Summit